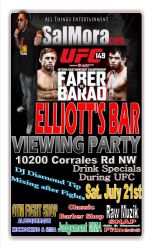 SalMora.com
UFC 149 Viewing Party
Urijah Faber vs. Renan Barao
Hector Lombard vs. Tim Boetsch
Time: 7:00pm Day: Saturday Ages: 21+ Ages
This Event Has Ended
UFC 149 will take place Jul. 21, 2012 from the Scotiabank Saddledome in Calgary, Alberta, Canada.
UFC 148 was also set to host a bantamweight title fight between champion Dominick Cruz and No. 1 contender Urijah Faber, but Cruz was forced to withdraw from the bout after suffering a torn ACL. Faber will now face Renan Barao for the UFC's interim bantamweight title. The fight was moved to UFC 149 after featherweight champion Jose Aldo was forced to withdraw from his title bout due to injury.
Fight Card may change at any time. 
Urijah Faber

vs

Renan Barao

| | | |
| --- | --- | --- |
| 26-5-0 | Record | 30-1-0, 1NC |
| 5' 6" | Height | 5' 6" |
| 135lbs (61kg) | Weight | 135lbs (61kg) |
| | Reach | |

Hector Lombard

vs

Tim Boetsch

| | | |
| --- | --- | --- |
| 31-2-1, 1NC | Record | 15-4-0 |
| 5' 9" | Height | 6' 0" |
| 185lbs (84kg) | Weight | 185lbs (84kg) |
| | Reach | 74 |

Claude Patrick

vs

James Head

| | | |
| --- | --- | --- |
| 14-2-0 | Record | 8-2-0 |
| 5' 11" | Height | 6' 1" |
| 170lbs (77kg) | Weight | 170lbs (77kg) |
| | Reach | |

Chris Clements

vs

Siyar Bahadurzada

| | | |
| --- | --- | --- |
| 11-4-0 | Record | 21-4-1 |
| 5' 10" | Height | 5' 11" |
| 170lbs (77kg) | Weight | 170lbs (77kg) |
| | Reach | |

| | | |
| --- | --- | --- |
| 13-2-0 | Record | 12-1-0 |
| 5' 11" | Height | 6' 1" |
| 185lbs (84kg) | Weight | 185lbs (84kg) |
| | Reach | |

Roland Delorme

vs

Francisco Rivera

| | | |
| --- | --- | --- |
| 8-1-0 | Record | 8-2-0 |
| 5' 9" | Height | 5' 9" |
| 135lbs (61kg) | Weight | 135lbs (61kg) |
| | Reach | |

Ryan Jimmo

vs

Anthony Perosh

| | | |
| --- | --- | --- |
| 16-1-0 | Record | 13-6-0 |
| 6' 2" | Height | 6' 3" |
| 205lbs (93kg) | Weight | 205lbs (93kg) |
| | Reach | |

Bryan Caraway

vs

Mitch Gagnon

| | | |
| --- | --- | --- |
| 16-6-0 | Record | 8-1-0 |
| 5' 8" | Height | 5' 5" |
| 145lbs (65kg) | Weight | 135lbs (61kg) |
| | Reach | |

Antonio Carvalho

vs

Daniel Pineda

| | | |
| --- | --- | --- |
| 13-5-0 | Record | 17-8-0 |
| 5' 9" | Height | 5' 7" |
| 145lbs (65kg) | Weight | 145lbs (65kg) |
| | Reach | |

Mitch Clarke

vs

Anton Kuivanen

| | | |
| --- | --- | --- |
| 9-1-0 | Record | 16-5-0 |
| 5' 10" | Height | 5' 8" |
| 155lbs (70kg) | Weight | 155lbs (70kg) |
| | Reach | |